Welcome...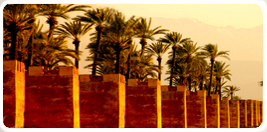 Moorish Style...
The founders of Octogone Hotels are discerning and well-traveled individuals. When they decided to create Octogone Hotels, they did so with an eye toward offering something different. As a result, there Hotel Company operates on the traditional concept of Moorish hospitality - where good living takes place in a very culturally-driven and diverse setting.   
Guests at Octogone Hotels find that they receive five-star services in a home-like setting. There is no barrier between the guest and the hotel. Immediately upon arrival, guests are introduced to the executive staff by first name. The accommodations are luxurious yet reminiscent of home and guests find they can enjoy luxury without the aristocratic, cold, detached service that is so often found in the world's finest hotels. We have dubbed our offering "Budget Luxury".   
The foundation of our success is this list of guiding principles that we use to set clear priorities, evaluate opportunities, and exceed the expectations of our guests and clients.
Come experience Octogone for yourself...
Terre Resort & Spa...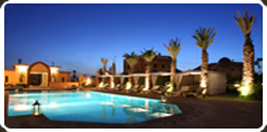 Nestled in the Pristine Palmeraie of Marrakech (Morocco), you will come across a small piece of paradise that you will soon refer to as your own heaven on earth.
Sculpted from a unique architectural form, Octogone shapes, you will find a small city of villas scattered throughout our enchanting facility. Experience the service in our restaurants and our amenities; but most importantly, just enjoy the serenity and relax.
Our secluded and luxurious five-star getaway is located in the Palmeraie Desert, just 14 kilometers (8.7 miles) from the enchanting city of Marrakech. Everything at TERRE, from the architecture to the cuisine, is an innovative blend of old and new. Take a step into the past and be submerged in true Moroccan style while being spoiled with all imaginable present-day luxuries. Our extra large suites come in various configurations to accommodate your every need. Our friendly and trained staff manages our full service resort offering from dinning, relaxation, activities and venturing on to the mystical red city of Marrakech.
We look forward to having you as our guest and sharing your experience of a lifetime...